When you think of a mobile home or a manufactured home, you probably don't immediately jump to "energy efficiency" in your brain. In fact, perhaps you conjure up a nearly opposite image of poverty and energy inefficiency. The fact of the matter is that the tides are changing for manufactured homes as they are becoming more popular, better designed, and more energy efficient as well! This is an excellent thing, as the more we dive towards the future, the more we see the need to cut down on energy use and change the way that energy use is understood and handled. Instead of using energy as if there is no tomorrow, we are quickly realizing that this is the wrong approach. There is a tomorrow, and unfortunately it is a very hot and fire-y tomorrow unless we take responsibility and begin moving towards an energy efficient future.
The manufactured homes industry is taking on this challenge head on, and is in fact making great strides in moving towards LEED certification for manufactured homes. In fact, there are quite a few site built and factory built mobile homes meeting LEED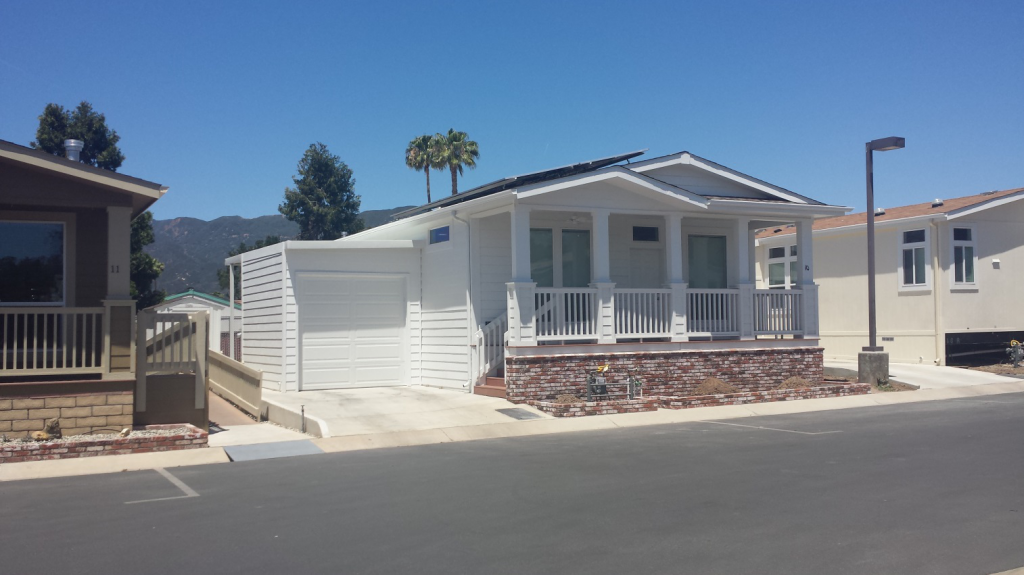 standards already. The challenge to work towards the "Net Zero" energy homes has been kept up with by the demand by home buyers to take responsibility for our energy actions. Perhaps the best example of a home that has achieved this standard is a home developed by Modular Lifestyles, Inc. who has created a 1352 square foot home in Ojai, California. The home is practically net zero and has received a climate rating of 9 out of 16 from the California Energy Commission. The homeowner's goal is for the home to be at net zero and is going about achieving this goal through a few different avenues. First, there is a 3.0 kWH solar panel system on the roof. This, combined with all Energy Star rated appliances inside the home gives the home "Tier I" Energy Star certification. All the appliances in the home are electric rather than gas with the exception of the water heater, which is run through natural gas.
At the end of the manufactured homes' first month, the electric bill (in June-July of 2014) was -$45.00. While the billing cycle the homeowner is on may end up causing a bill at the end of a 12 month contract, the goal of course is for this manufactured home to be completely energy efficient. Time will tell whether the goal of being net zero will be achieve in this year, but regardless it is clear that huge steps are being taken to ensure that manufactured homes living up to energy standards and, indeed, exceed them. This is the kind of forward thinking and future minded attitude that is completely necessary in order for us to prevent larger planet wide collapse. Instead of fearing the unknown future that lies ahead, we should all take steps like these in our own lives in order to protect against a future of energy inefficiency and other terrifying fates we have yet to discover.